Welcome
Casa Miltu Hotel is located on Ntinda-Nakawa Road on the outskirts of Kampala City, one of the most serene parts of the city. It is one remarkable relaxation hotel in Kampala.
We are situated in a ten-minute drive distance from the city centre and 50 minutes from Entebbe International Airport.
A Hello!
For any questions or comments, a note will highly be appreciated...
More Facilities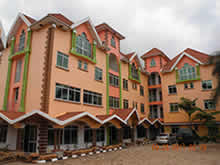 First Class Services and Facilities
Casa Miltu Hotel is the ideal setting for events and meetings that require exclusivity and secure environment.
CasaMiltu Hotel has a restaurant offering delicious ala-carte menus and a host of continental dishes served with hot and cold beverages bested on the customer choices.